Peabody Magazine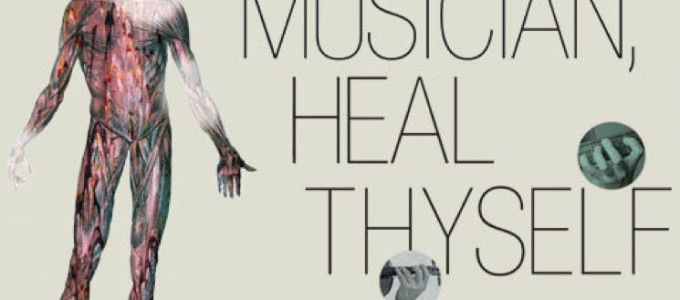 Performers are prone to injury, and too many play through the pain. Thankfully, new breakthroughs in treatment—and prevention—can bring healing.

By Patrick A. McGuire
Illustrations by Natasha Tibbott
---
Stop me if you've heard this one. Violinist goes into a doctor's office. Raises his violin and plays several notes, wincing in pain. Immediately stops playing. Says, "Doc, you gotta' help me. It hurts when I do that."
Also of interest
The Big Question for Leon Fleisher, Johns Hopkins Magazine, Fall 2009
Therapist for musicians in pain, The Baltimore Sun, August 29, 2009
Medicine for Musicians, The New York Times, January 28, 2010
Doctor shrugs, says, "Don't do that."
Sha-BOOM!
If you're a physician you probably don't think that's very funny. If you're a violinist or a pianist or a flutist or a guitarist or anyone who plays a musical instrument for a living—anyone who has played through debilitating pain because doctors couldn't find anything wrong with your elbow or shoulder or fingers or neck—that joke may be so funny you forgot to laugh. Or perhaps you're a musician reluctant to admit that constant pain is slowly shrinking your repertoire and sapping your confidence. Maybe you're thinking if you were more talented this wouldn't be happening. That if you tell anyone about it, your place will be taken by some rising star waiting eagerly in the wings. So you suck it up and play hurt.
Welcome to the musician's unenviable perch between a rock and a hard place. It's a sore spot that musicians and conservatory students have occupied for years without much official acknowledgment or medical understanding—and in too many instances without knowing there's a good chance the musician sitting on either side is suffering in silence with the very same pain and career anxiety.
Consider that a recent survey of 330 incoming freshman students at a Midwestern school of music showed 79 percent with a history of "playing-related pain."
"In a population of…young people presumably in otherwise good health and with a 'clean slate,'" noted the study published in the journal Medical Problems of Performing Artists (MPPA), "the majority had already encountered music-induced pain as high school students or younger."
At the Peabody Institute, faculty and administrators have been painfully aware of performer injury for decades. "Peabody has a very heightened awareness," says Mellasenah Y. Morris, dean of the Conservatory and deputy director of the Institute, "particularly because of Leon Fleisher."
The brilliant career of the renowned pianist was interrupted for almost 40 years by a neurological condition known as focal dystonia. Unable to use his right hand, he developed a lefthanded repertoire. He also became a well-known conductor and teacher, and in recent years, with the help of his daughter, Leah, a physical therapist, has returned to two-handed playing.
"We have had others who have had injury problems," says Morris, whose own daughter ended up in traction after 12 steady hours of violin practice. "It's just so prevalent."
To help address the issue, Peabody in 2005 added a special course to the curriculum, which is aimed at teaching the basics of injury prevention. Anatomy and Injury Prevention for Musicians is taught by Baltimore physician Scott Brown. A physiatrist, Brown specializes in treating musculo-skeletal and neurological conditions such as those that occur in musicians. His Peabody course covers basic concepts including warm-up and cool-down stretches, the need for enough sleep, and the caution to stop playing when in pain. He also emphasizes attention to posture and avoiding "extremes of motion," such as keeping the wrist bent or extended too much.
"Almost all musical instruments are biomechanically unwieldy to begin with," says Brown. "They almost all require positions you wouldn't use for any other reason but to hold that instrument."
It's not unusual, he says, to see students coming to class wearing braces and splints. "They are very receptive, they ask a lot of good questions, and have told me that what we talk about rings true." Brown, himself an amateur pianist, is just finishing a second edition of his biography of James P. Johnson—the 1920s musician who invented the Charleston and "stride" piano playing. Brown believes that without an interest in music, doctors can be blind to the critical nuances of performing arts medicine.
"One of the most frustrating things for a musician is to be told to stop playing if they have a problem," he says. "That recommendation doesn't fit. It's rare where absolutely stopping all playing is required. So it's important how you counsel the musician in the proper way to keep playing while being able to heal and rehab from injury."
That doesn't mean just gritting your teeth and playing through the pain, however, which can only exacerbate the injury. Ten years ago, for example, when she was a junior guitar student at Peabody, Serap Bastepe-Gray (BM '96, MM '99, Guitar) developed painful tendonitis in her right arm. She'd been practicing up to eight hours a day for her junior recital and at first ignored the pain and kept playing.
"It got worse," she recalls. "I had a big recital in three months. I had to do this; I was goal oriented. When a musician gets injured there are a lot of things at play: not being able to do what has kept you company for years, eight hours a day; the fear of not passing your recital and not graduating. So I played through it for four days. Then I had to stop because it was so painful."